Wisconsin Badgers volleyball team stuns Baylor Bears to advance to NCAA title match against Stanford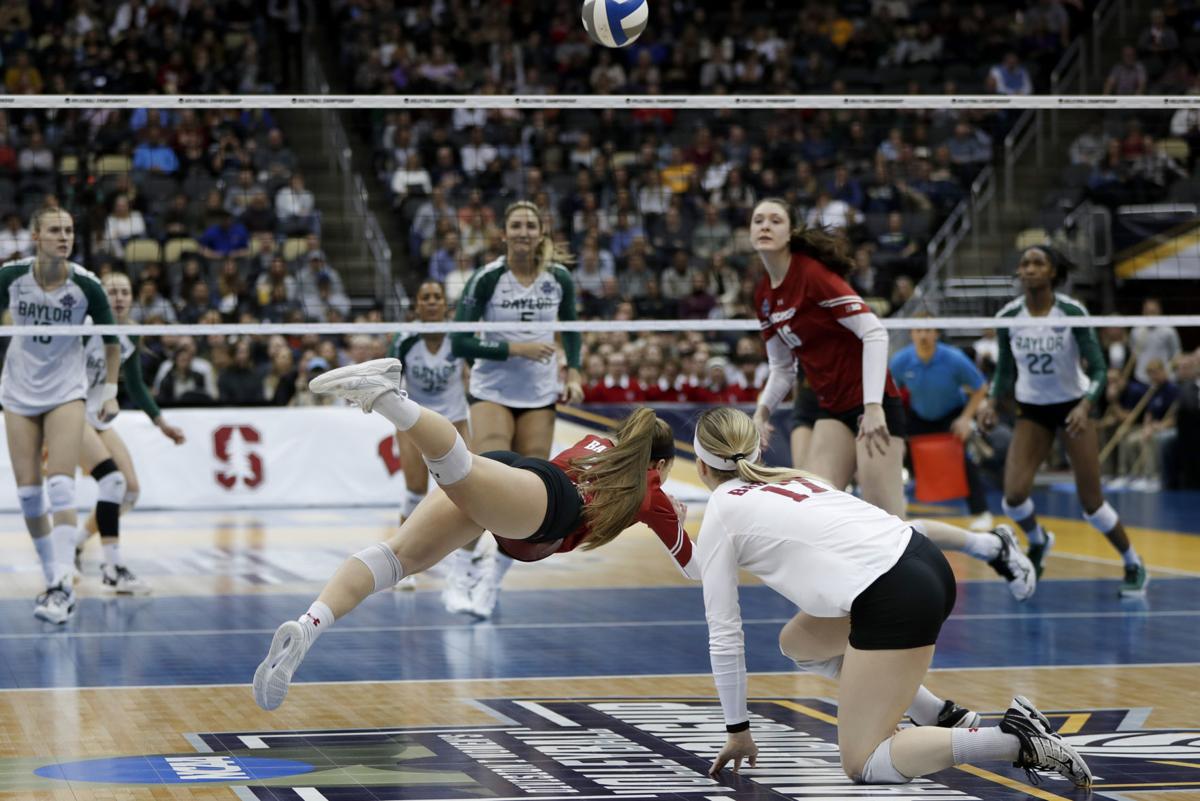 PITTSBURGH — The University of Wisconsin volleyball team is one step away from making history.
The Badgers advanced to the NCAA championship match for the third time in their history with a four-set victory over No. 1 seed Baylor 25-27, 25-21, 25-17, 25-19 in the semifinals Thursday night at PPG Paints Arena.
The No. 4 seed Badgers (27-6) will face defending champion No. 3 Stanford (29-4) for the title on Saturday.
It's a reality that was just beginning to sink in for the players who set the goal of a national title at the start of the season.
"I think it will hit me after tomorrow," said redshirt junior Molly Haggerty. "We've all dreamed about being in these moments and I think we're just really excited to be here. Like we always talk about, live in the moment, be where our feet are. I think we did a great job of that tonight, for sure."
The Badgers got impactful contributions in every phase of the game, but no one had a bigger impact than Dana Rettke. The 6-foot-8 junior three-time All-American put away 19 kills, hitting .484, with eight blocks and three service aces.
"Those are pretty nice numbers for a middle," coach Kelly Sheffield said.
Haggerty also was a consistent force on offense with 15 kills, hitting .414.
And while junior setter Sydney Hilley went to those two early and often, she also didn't give up on two other hitters, junior Grace Loberg and redshirt senior Madison Duello, after they struggled in the first two sets, hitting a combined -.067.
Each came back and made several big plays in the last two sets. It's all a matter of trust, Hilley said.
"They all know I have so much trust in them no matter what's going on," Hilley said. "If Grace makes an error, I'm like, OK, I'm going back to you right now, you better get ready for it, like stop thinking about the last one kind of thing.
"I never lose that in my hitters, and it's just really a special thing to be able to set any one, and any single one of my hitters can take over a match any night, which is really, really cool. But that's credit to my passers for me to be able to distribute the ball to whoever I want to, and I'm really proud of the way they played tonight."
Sheffield was particularly pleased with his team's serve-pass game as the Badgers had nine service aces and just seven service errors. Baylor had four aces and eight errors.
Rettke and Hilley each had three aces, while Haggerty and senior Tiffany Clark each had a decisive serving run in the last two sets.
"I thought everybody was (aggressive) behind the service line," Sheffield said. "You look at some of these serving numbers, and everybody seemed to have a run tonight. It wasn't just one or two servers. I thought we were putting pressure on them for six rotations.
"And that tells me we've got a team that's in a pretty good place, when you can go back there and be aggressive. I saw very, very little just playing it safe with their serves or anything. I thought we were driving a lot."
Sheffield also liked the way his passers, primarily Clark, junior Lauren Barnes and senior M.E. Dodge, handled Baylor's serves.
"I thought both teams were putting in some really gnarly and nasty serves," Sheffield said. "And we got aced a couple times, but not as many times as what some of those serves would make you think."
Thanks for being a subscriber.
Sorry, your subscription does not include this content.
Please call 800-362-8333 to upgrade your subscription.
Junior Yossiana Pressley, who averaged 31.5 kills in the Bears' two victories over the Badgers the past two seasons, had another spectacular match, although she was held below that mark with 25 kills. Pressley hit just .191 with 12 errors, six of them coming on UW blocks, including three during the Badgers' finishing 10-2 run in the fourth set.
Sheffield said he thought his players benefitted from having faced Pressley a couple times.
"I thought we were disciplined," he said. "We weren't trying to do so much. I think when we've gone back and we watch how we defended her in the past, I thought it looked like a very undisciplined, poor-coached team.
"We were, I don't know, almost frantic a little bit. She can do that. When she's up there, she elevates at a different atmosphere than most other kids. And so I saw the defense that trusted that everybody else was going to do their job. They weren't trying to overplay some things."
Pressley had six kills in the first set as Baylor (29-2) fought off one set point for the Badgers to prevail in extra points. It was the first set the Badgers lost since the Penn State match, a stretch of 15 sets.
But the Badgers didn't flinch, even after Baylor opened the second set with an ace.
"We didn't panic and we knew there was a lot of volleyball left," Hilley said. "We knew the match wouldn't be decided by one set. I thought we did a good job staying positive and staying aggressive after that.
"I think the biggest thing was we went out there, and were trying to have so much fun. And this great atmosphere, like every moment is fun no matter whether you're losing a point or winning a point. We did a good job staying loose and having fun. We're at our best when we're having fun."
Baylor takes the same approach, but found that more challenging after the first set.
"As the match went on, it was harder for us to get kills," Baylor coach Ryan McGuyre said. "And those for them were coming a little bit easier. They're well coached, well trained and the all-stars for them just made some really, really big plays at some key moments. Rettke from the service line, I thought, was probably the story of the match in disrupting us."
Wisconsin  25 25 25 25
Baylor        27 21 17 19
WISCONSIN (kills-digs-blocks) — Barnes 0-7-0, Hilley 2-7-4, Ashburn 0-3-0, Duello 5-3-5, Rettke 19-2-8, Clark 0-18-0, Hart 6-1-6, Dodge 0-10-0, Loberg 7-2-3, Haggerty 15-9-2. Totals 54-62-14.5.
BAYLOR (kills-digs-blocks) — Wulf 0-10-0, Stafford 10-4-3, Fluegel 0-0-0, van der Mark 8-1-0, Thomas 1-0-0, Lockin 1-7-4, McGhee 2-1-7, Hunt 0-8-0, Coleman 0-0-0, Pressley 25-16-2, Bramschreiber 0-1-4, Milana 7-1-4. Totals 54-56-10.
Hitting percentage — W .267, B .183. Aces — W 9 (Hilley, Rettke 3), B 4 (Bramschreiber 2). Assists — W 52 (Hilley 43), B 52 (Lockin 44).
Photos: Wisconsin Badgers volleyball team headed to NCAA final with win over Baylor Bears
Wisconsin 3, Baylor 1
Wisconsin 3, Baylor 1
Wisconsin 3, Baylor 1
Wisconsin 3, Baylor 1
Wisconsin 3, Baylor 1
Wisconsin 3, Baylor 1
Wisconsin 3, Baylor 1
Wisconsin 3, Baylor 1
Wisconsin 3, Baylor 1
Wisconsin 3, Baylor 1
Wisconsin 3, Baylor 1
Wisconsin 3, Baylor 1
Wisconsin 3, Baylor 1
Subscribe to our BadgerBeat email!
Stay connected to Badger sports with our FREE daily email featuring all of our Wisconsin athletics content, delivered straight to your inbox!